fashion THAT GIVEs BACK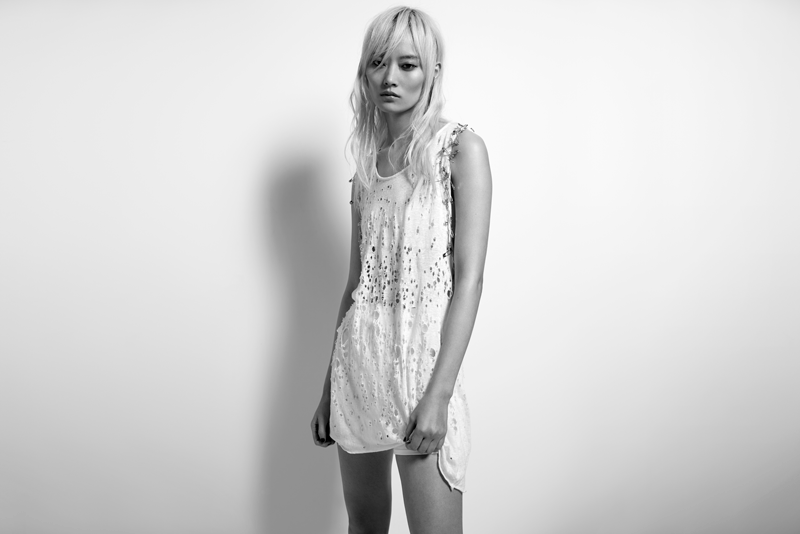 Purchase UN.DO's Safe Tank at 25% off exclusively on Story + Rain using promo code 'UNDOSTORY'.
Made famous by style icons James Dean and Jackie O, today's white T-shirt is everything but a rebel without a cause. This season designers like Dior, Prabal Gurung, Jonathan Simkhai, and Creatures of Comfort used the runway as the fashion community's sounding board, sending a barrage of slogan T-shirts into the spotlight. While some designers opted for messages emblazoned with black ink, others like New York-based brand UN.DO have been even bolder in their approach. Each season the brand picks a cause and re-contextualizes the issue as an aesthetic choice that shapes the garment. This season's collection is called UN:LOAD, and each garment is shot with a 12-gauge shotgun creating a tattered, distressed look that is entirely unique. 20% of the profits go to the not-for-profit anti-gun violence organization, Cure Violence. UN.DO also champions a commitment to sustainability, making its T-shirts in the heart of New York City using 100% biodegradable fibers.
Also appearing in our spread is Dior's wildly popular and now sold out "We Should All Be Feminists" T-shirt. The tee takes its rallying cry from Nigerian writer Chimamanda Ngozi Adichie's 2014 essay, and a portion of the proceeds benefit Rihanna's CLF foundation (who was named 2017's Humanitarian of the Year). Founded in 2012, the foundation is named after her grandparents (Clara and Lionel) and offers continual funding for education, health, and emergency response programs in impoverished areas worldwide. Prabal Gurung's "Alive" T-shirt is another favorite of ours. Gurung is donating a portion of the proceeds across three organizations: the American Civil Liberties Union, Planned Parenthood, and Shikshya Foundation Nepal (the designer grew up in Kathmandu).
Fashion remains not only a vehicle of style, but of message.